The employee delegates conference of Tin Nghia corporation in 2023
esc_admin
On April 12, 2023, Tin Nghia Corporation held the 2023 Employee Delegates Conference at Head office hall and 2 online bridge points at Tin Nghia Industrial Park Development Joint Stock Company and Tin Nghia Petrol & Oil Joint Stock Company. Attending the Conference there were 132 delegates, representing 1,240 employees of Tin Nghia Corporation.
At the Conference, the representative of the Board of Directors, the grassroots Trade Union reported the 2022 business result and the 2023 plan; Report on implementation of the Regulation on democracy according to Decree No. 145/2020/ND-CP dated December 14, 2020 of the Government; Report on the synthesis of employees' opinions at the grassroots employee conference and Report on the supplementary draft of the Collective Labor Agreement on the basis of the negotiation results between the employee and the employer.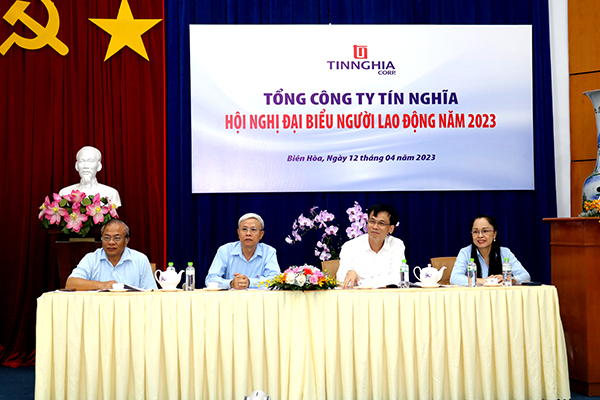 The General Director led the Conference to discuss actively and seriously, he said that 2023 will be a year full of difficulties and challenges for Tin Nghia, and suggested that leaders of subsidiaries and all employees to join hands with the corporate management to overcome difficulties and complete the targets set out. The General Director received the opinions and recommendations of the Conference, and at the same time satisfactorily explained the issues raised by the delegates.
The 2023 Employee Delegates Conference of Tin Nghia Corporation voted to agree with the contents presented by the Board of Directors and the grassroots Trade Union. The General Director representing corporate employer, together with the president of the Trade Union, representing employees signed the Collective Labor Agreement in 2023.
The Conference called for all employees to have higher sense of responsibility, actively respond to the emulation movements launched by the Board of Directors, Executive Committee of the grassroots Trade Union, contributing to the successful implementation of the Resolution of the Employee delegates Conference of Tin Nghia Corporation in 2023.