Tin Nghia corporation held the 2023 annual general meeting of shareholders successfully
esc_admin
In the morning of 20 April 2023, Tin Nghia Corporation (UPCoM: TID) successfully  organized the online  2023 General Meeting of Shareholders with many important contents reaching the high consensus and approval of the shareholders.
Attending the Meeting were Mrs. Nguyen Thi Thanh Yen – Deputy Director of the Provincial Party Committee Office, Mrs. Pham Thi Tuyen – Financial Manager of Provincial Party Committee, delegates and shareholders account for nearly 93% of the total valid voting shares.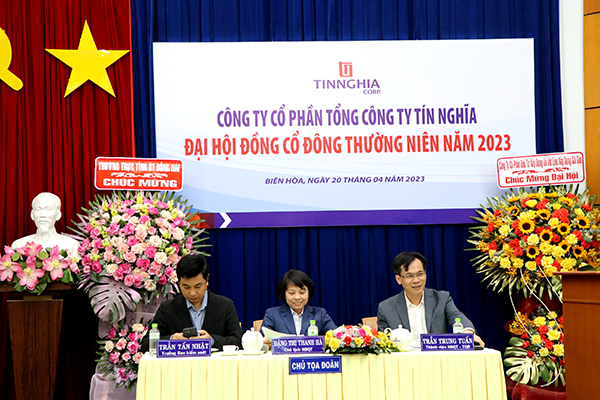 At the Meeting, shareholders approved important reports and proposals such as: Report on business performance in 2022 and business strategic orientation in 2023 of the B.O.D and the Supervision Committee; Report of the B.O.D on the implementation of the plan to offer shares to existing shareholders in accordance with Resolution No. 02/NQ-ĐHĐCD dated September 19, 2022; Financial report of 2022; The profit distribution plan in 2022 and the 2023 plan; Report on remuneration for the B.O.D and Supervisory Board in 2022 and plan for 2023, ect,..
Acoordingly, the Meeting approved the business operation plan for 2023 targeting consolidated revenue of 10,000 billion VND, an increase of 2% compared to the implementation of 2022; consolidated profit after tax of 250 billion VND, increasing by 76% compared to 2022.
Another remarkable content at the Meeting is the plan to offer 50 million shares to existing shareholders, the exercise ratio is 4:1. The purpose of the offering is to increase charter capital from 2,000 billion VND to 2,500 billion VND in order to raise capital for investment in developing Ong Keo IZ Infrastructure Investment and Business Project, expected to be implemented in 2023 – 2024.
At the Meeting, the Corporation submitted to the General Meeting for approval of the 5% cash dividend for 2022 – equivalent to 100 billion VND.  Approaching year of 2023, the minimum dividend target is expected to be 10%.
Also at the event, the General Meeting of Shareholders dismissed Mr. Nguyen Van Hong from the position of the B.O.D member for the second term (2021-2026) for being ineligible to be an enterprise manager according to regulations of the Enterprise Law 2020 and the Corporation's Charter.
At the end of the meeting, the shareholders approved all the proposals with a high rate of consensus, creating a premise for the Company to deploy activities in 2023 to complete the goals and orientations set out